MIVICE
Social responsibility: commitment and task
Our mission is to give every person in the world the opportunity to use a MIVICE product to experience special moments. These are not just words - this is part of the DNA of our company, which we live every day and want to convey to our customers.
We want to give mankind the possibility to move fast, safe, sustainable and resource-saving.
There is only one world in which we live and cycle - now and in the future.
takes responsibility:
from development to delivery
Our new product development is always also designed for efficiency - even more efficient use of our products means covering more kilometers with less energy. But also in production - here, too, we try to produce our systems in a way that conserves resources. Of course also for cost reasons - but just as a basis for our sustainable thinking.
We want to develop efficient products - not energy monsters, but engines with which you can move around as efficiently as possible. As many kilometers as possible with the least amount of energy - a core topic of the work of our R&D development team.
For example, with the torque/weight ratio, we have developed an indicator that shows us how much energy we can generate with the weight of the product. And here we are already achieving very good values, which we want to continue to optimize.
Resource-efficient production
Energy- and resource-saving production is important for every company purely for cost reasons - we naturally also see this with this aspect, but at least equally for sustainability reasons.
We pay attention to cooperation with producers who have similar approaches as we have to this topic. This is of course sometimes difficult to do - but we are struggling here to bring the topic permanently into our talks and negotiations, so that this must be taken for granted over time.
We want to incorporate the topic of green energy more and more into our production processes now and in the future. It is not always easy to find the right common denominator here, but it is important in order to continue to live up to our vision of a company that thinks and acts sustainably in all aspects.
We try to use materials for our products which can be reused in the recycling cycle. This is once also a claim to our quality thinking - but also the recycling idea. For example, we do not use any cheap plastic elements in our motors. Only high-quality materials, which are also used in the qualified automotive sector, are used here. Products, which guarantee a long life and after their period of use again into a new product can revive.
We think through the packaging of our materials as a matter of principle and are constantly trying to improve this. For example, we have recently almost completely dispensed with plastic packaging for our engines and most other products. We try to reduce the amount of manuals and catalogs to a minimum, to think in terms of material reduction and to promote the digital use of documentation. We also use cardboard boxes for the dispatch of our sample bike, which can be used several times and thus make a significant contribution to waste reduction.
RESCHENPASS / ALPS
NATURALS TRAILS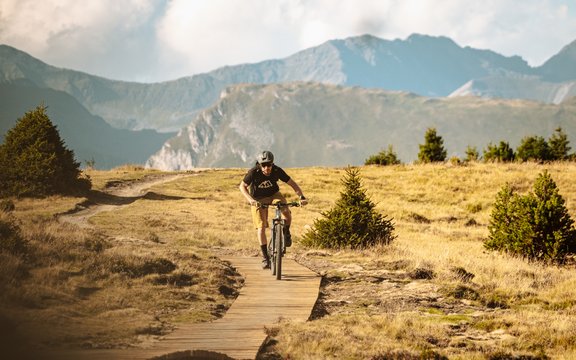 For years, parts of our team have been accompanying the development in the grandiose, high alpine region at the Reschenpass. The Reschen is located in the heart of the Alps at the 3-country corner Switzerland / Austria & Italy and connects not only 3 different countries.
The people from this region manage to combine nature in harmony with charming as well as challenging mountain bike trails. Here, no highways are carpentered into the landscape, here, concepts are developed in harmony with nature, consciously and sustainably. That's why we are always happy to be here, have one of our experience hubs here and support this great region with passion and conviction.
CARI & HARRY
WHEELS AROUND THE WORLD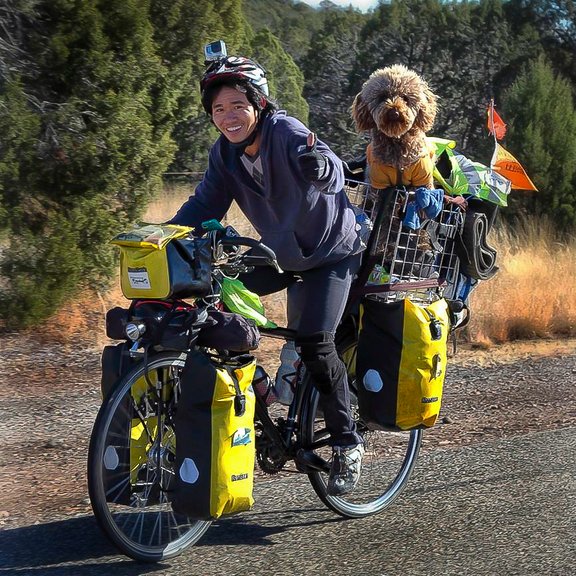 One person, One dog. One dream.
Cari and his dog Harry will go on a world tour. Thousands of kilometres on the road in the Southern Hemisphere, through countries like Brazil, USA, Zimbabwe, New Zealand and many more. And this on his bike, which is powered by a MIVICE engine.
On his journey, we will raise funds for animal rescue centers and for non-profit organizations to help children in rural areas have electricity in school. He will also promote an environmentally friendly low-carbon travel style.
We will support Cari and his project with all our passion.
children are our future
KIDS Evolution
We support this great project of Annika and Mirko, in which they support children who are handicapped and through targeted support opportunities to compensate for their deficits and to guarantee them a better life.
Currently, the two invest their power in support for projects for hearing impaired children, in swimming courses and through their partner World Bicycle Relief the organization of bikes for children in developing countries.
Annika and Mirko start annual fundraising tours, for which they collect kilometers on their bikes as well as donations, which they then make available for their projects.
Their commitment, ambition and the thought of giving every child the best opportunities are our incentive to support here.
For a better future, for our future.